Robert C. Johnston.
DESPITE setbacks with Russian cargo ships accused of continuing to deliver military supplies to the Syrian regime, the best scenario for the removal of Assad remains with Russian cooperation in the UN, for the sake of the people of Syria. Assad, like Gadhafi, is deliberately ordering protracted atrocities to be committed against his own people, and, citing increasingly accepted international doctrine, the international community has a responsibility to act to stop the bloodshed and protect Syrian lives.
In Libya, we responded by eventually enforcing a no-fly zone and providing arms to the Libyan opposition, a move tailored to the individual circumstances at play there. However, as the Chairman of the US Joint Chiefs of Staff General Martin Dempsey recently reminded, we should be cautious of templates. Direct military action on the part of large scale UN sanctioned forces in Syria would be complicated – particularly considering the Syrian regime's anti-air capabilities. Arming the rebels would only see an increase in violence, and without a unified opposition command it may do more harm than good. Therefore, a different approach is preferable.
Of course, we can and should call for a ceasefire, but in reality it appears that these are wasted words. Assad will not stop until he has achieved his own goals; that is, the neutralisation of internal opposition – whether it be men, women, or children.
The answer lies with Russia and the international community working together within the UN, and steps could be taken as follows:
Citing condemnation of Assad in the UN Human Rights Council, an international arrest warrant should be placed on Assad for crimes against humanity, with the aim to bring him to trial before the International Criminal Court (ICC).
The UN should sensitively work with Russia and China so that they feel tentatively able to include themselves in the chorus of those condemning Assad. Russia, for example, should be reassured that a transition to a new government in Syria need not be any threat to its important political interests there, including its significant Mediterranean naval port. Hopefully, then, they would not veto the authorisation of the measured steps listed below, designed to stop the bloodshed and remove Assad from power. If the Arab League is pressing for the UN to take action, how can a 21st Century Russia and China responsibly prevent the international community from answering the distress call?
The next UN authorised step should be to electronically jam Assad's transmissions and replace frequencies with messages stating that Assad has lost all legitimacy as a leader and that an international bounty is on his head to bring him before the ICC. These transmissions should emphasise that the killing must stop on all sides and that those who commit atrocities will be counted alongside Assad as murderers.
At the same time, the UN should request the immediate departure of any Iranian forces operating in Syria to avoid the potential of escalation.
The following step is where Russia can really play a key role in protecting Syrian lives. Utilising Russia's knowledge of and long relationship with the Syrian military, with many military personnel potentially having had personal friendships, a hand should be extended via back-channels to a Syrian general recommended by the Russians and with a respected reputation within the Syrian military and the international community. In frank conversation, the Russians could plainly tell this general that the situation cannot continue and that Assad must go, and that they request the general's help.
The Syrian general – or generals – may be able to get forces loyal to them close enough to Assad to arrest him, perhaps with the assistance of a small team of UN sanctioned special forces. These special forces could, if Russia should insist, be Russia's own Spetsnaz – some of which are probably already amongst the detachment of marines on the two Russian warships heading to the area. After his arrest, the ideal situation would be that Russia would then hand Assad over to the ICC, but it is possible that Assad and Russia will make a secret deal to spirit him out of Syria and into exile. This, of course, would result in much condemnation from the international community. But, as unfortunate as it would be, if that happened it would have to be a negotiation for another day – the most important thing right now is to stop the rampant killing in Syria.
The Syrian generals should then order a cessation of all offensive activity by the Syrian military and opposition, with Syrian forces involved in heavy aggression rotated away from their recent areas of operation. Certain other Syrian forces, with strict new rules of engagement, could potentially maintain their positions to ensure that there is peaceful order and to prevent further massacres by pro-Assad militants. Syrian military doctors and facilities should be rushed to areas of most need, and Syrian military engineers should be sent into formerly besieged towns to bring damaged infrastructure back online.
Armed UN peacekeepers should then be invited to enter Syrian towns to provide additional security and help limit the potential for flare-ups between groups. With Syrian military and civilian services stretched to the limit, foreign medical, engineering, and other specialist personnel and organisations such as the Red Cross could assist to fill the gaps. Ensuring that good and honourable Syrian military personnel are involved on the ground in these efforts could help to show Syrians who had personally and tragically affected by the regime that not all Syrian military personnel should be hated.
During this time of rebuilding – physically and socially – new leaders would naturally emerge, and an election process could outline peaceful tracks for Syria's future. Armed UN peacekeepers and Syrian military personnel could provide security and UN observers could ensure vote accuracy. It would be beneficial to have a very multinational mix of UN peacekeepers – Russian, Chinese, and even Iranian – alongside the usual contributors. As Russian Foreign Minister Sergei Lavrov and UN Special Envoy Kofi Annan both indicated recently, as a neighbouring country and one of Syria's main allies it would be prudent to include Iran. In any case, it is better to be inclusive rather than exclusive – any cooperation on the ground between multinational UN peacekeepers leads to greater cultural understanding and creates personal relationships which may be of benefit in the future.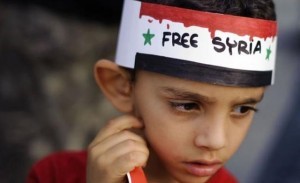 These steps, while not perfect, are intended to be realistic – to work to our strengths; in particular, Russia's special experience with Syria. Measuring diplomacy and action is a difficult balancing act, but as Lord David Owen wrote recently, the scale of the humanitarian tragedy in Syria demands that we try.