Robert C. Johnston.
This letter was sent to the Brand Australia Selection Panel on May 7th, 2010, after it was announced that 'Australia Unlimited' would be the slogan for a new $20 million campaign to market Australia to the world.
'Australia. True blue.'
It captures the essence of Australia: its fairness, its integrity, its uniqueness.
It appeals to international investors: a distinctive and recognisable Australian slogan that sums up everything good about Australia. It gives the impression that Australia is a place that welcomes fair business and investment, a safe place for all people to visit.
It touches on the Australian character, without cultural cringe: many potential international investors will instantly recognise it, and others who hear it for the first time will look up its meaning and be buoyed by its positive connotations.
Dear all on the Brand Australia Selection Panel,
I have to say I was disappointed at hearing that 'Australia Unlimited' has been chosen for the Brand Australia slogan. I'm sure that you have read in the media that while it is not as bad as some it has so far had a largely unfavourable reception. To put it simply, 'Australia Unlimited' just has no spark, no Australian distinctness. It is bland and has a slightly negative edge. I strongly urge you to reconsider this choice, Australia deserves more and is more. 'Australia. True blue.'
As I said above, 'Australia. True blue.' sums up everything that is good and decent about Australia. It sends a positive message to the world about Australia's people and its opportunities for investment. It would appeal to Australians at home too, especially if its accompanying ad campaign had the right edge. I do not think that I actually have to say much to get my message across. Please have a look at the attached image I created. Think about the words. They are ingrained in us as Australians. True blue. How do you feel? As an Australian hearing those words, I feel proud, and that is the type of message that I would want to sell to the world. If I were a foreign investor looking for a stable and honest place to do business, or an international student deciding which country to study in, or a foreign family planning their first overseas trip, 'Australia. True blue.', would send the right message.
I would also suggest that Brand Australia and Tourism Australia work together and have the same slogan. Look at the success of New Zealand's '100% Pure' campaign. It even promotes New Zealand's peas and carrots. Attracting international investors and tourists are one and the same – both are designed to nourish and enrich Australia. Having one slogan would minimise confusion and send one positive message out to the world: that Australia is fair and honest, a safe and beautiful place to visit, and full of friendly and hard working people.
It would also mean that the accompanying ad campaign could show the vibrancy of separate yet interconnected stories – of foreigners coming to Australia for their own reasons, for business, study or travel, but all connected in their positive Australian experience. One combined ad campaign would provide continuity for overseas markets while also reducing costs by not having to create and distribute two separate ad campaigns.
I did not initially submit a tender, but upon hearing of the winning slogan I feel it is my democratic responsibility to urge you to reconsider. 'Australia Unlimited' is unlikely to hit the desired mark, and in your hearts you probably know it. I understand it must have been a nightmare trying to narrow down all the slogans you received, and I am appreciative that you have taken on this task in addition to the many other professional and personal commitments you may have. But please reconsider, for Australia's sake. Let's make it better.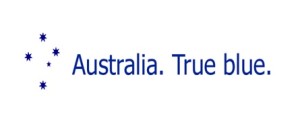 'Australia. True blue.' logo design by Robert C. Johnston.